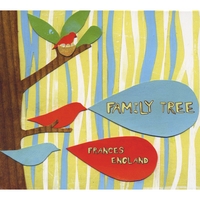 We listen to a lot of music here at the collective, and I'm picky. I persistently avoid exposing the children to anything I'm not willing to hear 357 more times lest they fall in love with it and require that I play track 8 over and over and over until my ears bleed. With that simple requirement, Frances England's first album,
Fascinating Creatures,
immediately made it into heavy rotation in the kitchen. When I heard that follow-up was coming out I was worried. Could it possibly be as good? I tried not to get my hopes up lest they be dashed, but her second,
Family Tree
, totally lived up to my expectations. After hearing just the title track, a child's reflections on a sibling joining his family, I felt like she perfectly captured the moments in my children's lives and the sense of connection I feel with them. Her voice is lovely and folksy, the music spare and not over-produced or too sweet. It's music suitable for adults but expressing the realities and feelings of children. Ack, I could go on and on. I loved it so much (honestly, nearly every track is top-notch) that I want to share it with you.
Leave a comment on this post before midnight, June 15
and I'll randomly select one of you to receive your very own copy. If you'd like to order one for yourself or hear a preview, check it out on
CD Baby
(where artists get a bigger cut of the profits and they treat you so nicely!).
Now comment!